Palacio Real, Royal Palace in Madrid Guide
The Royal Palace (Palacio Real) is the grandest building in Madrid; this lavishly furnished complex has the largest floor area of any of Europe's palaces with an astonishing 2,800 rooms each exhibiting the riches of this once mighty country. The Royal Palace was constructed entirely from stone, with no wooden flooring or support structure due to the obsessive fear of fire by the royal court. The royal palace was aligned to overlook the rolling hills and hunting grounds to the west of the capital.
The present King and extended royal family have tried to distance themselves from previous extravagant royal eras and shun the Royal Palace only using it for state functions. Royal Palace is actually owned by the Spanish Government who have transformed it into a fantastic tourist attraction. Approximately 50 staterooms are open to the public and display national treasures by the country's finest artists. The Royal Place is a great tourist attraction and should be visited by all tourists to Madrid.
Tourist Information
The adult entrance fee to the Royal Palace is €8, which allows visitors to view the 50 rooms at their own pace. A guided tour of the Palace cost €10 and last for approximately 45 minutes, English tours are common and highly recommended. The palace's open times are from 10:00 -20:00 during the summer months and 10:00 -18:00 during the low season. On Sundays and public holidays the palace is only open during the morning, shutting by 14:00. For those travellers on a tight budget there is free entry for tourists from European state countries on Wednesday and Thursday between 17:00 to 20:00.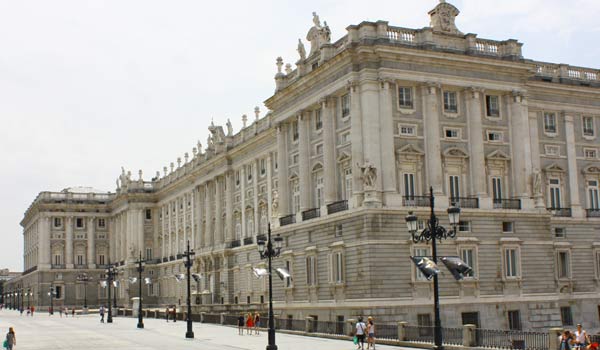 the grand Royal Palace of Madrid
The Royal Palace is on the western side of the city and connected to the metro system by the Opera station (lines 2 and 5). Bus 3, 25, 39 and 148.all pass within the vicinity of the Palace. The walk from Plaza de Sol takes approximately 15 minutes and is one of the popular tourist routes.Most visitors spend about 1 hour in the palace and another 30 minutes in the grounds of Plaza de Oriente at the front of the Palacio Real. Sadly the Plaza de Oriente a popular haunt for pickpockets.
Further Information
The palace which visitors can see originates from the 1740s and was constructed after a massive fire completely destroyed the original Palacio Real. The fire traumatised King Ferdinand V and he decreed that the reconstructed palace be fireproof. This meant that there was to be no wood in the supporting structure and the entire complex is formed from massive stone slabs. The supporting stone structure required massive exterior and interior walls to hold the weight of the Palace and these walls are many times thicker at the base than on the upper levels.
Madrid Holiday Guide