Almudena Cathedral, Madrid Guide
Though Madrid has been the royal and political centre of Spain since the 16th century, Madrid's only cathedral, the Almudena Cathedral, was completed in 1993. The huge neo-classical cathedral appears to be part of the historic Royal Palace but the buildings history has been brief with more historical significance in its planning and conception.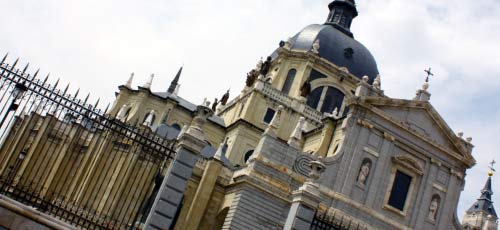 The cathedral of Madrid lacks the charm or allure of other grand religious buildings in Spain but it compensates in sheer size. For those visitors who linger inside the Almudena Cathedral will find that there is architectural beauty as the cathedral careful blends two opposing styles; classical and neo-gothic. The cathedral is dedicated to Madrid's patron saint, Santa María de la Almudena.
Almudena Cathedral Tourist Information
The Almudena Cathedral lies directly south of the Royal Palace and the closest metro station is Opera which involves a 5 minute walk through the Plaza de Oriente. There is no entrance fee to visit the Almudena Cathedral. The opening times are from 10:00 until 19:30 but is closed to tourists during religious services. The crypts are open from 10:00 until 19:00 every day. There are Sunday masses (in Spanish) and these are held at 10:30, 12:00, 13:30 and 19:00.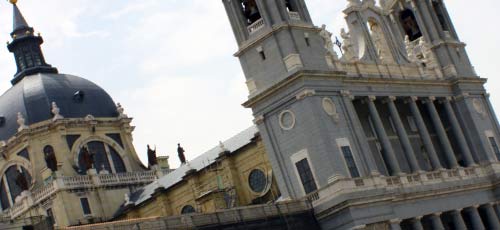 A visit to the cathedral is commonly combined with the Royal Palace and generally most visitors spend less than 20 minutes inside the cathedral. The main entrance is accessed from Calle de Bailén, while the crypts are entered behind the cathedral on Calle Mayor.
Further Information for the Almudena Cathedral Madrid
Madrid cathedral is unique as it was constructed on a north-south plain while most other churches are constructed on an east-west line. The reasoning behind the positioning is so that the cathedral was aligned with its mighty neighbour the Royal Palace. The actual cathedral follows the classical Latin cross plan that extends for 102meters in length and 73meters in width. The most striking exterior feature of the cathedral is the massive dome. The dome has a diameter 20m and the gray colour is due to sheets of slate that cover the roof. Around the dome are 12 statues each of which represents one of the apostles.
Madrid Holiday Guide