Felipe III Statue Madrid Guide
The Felipe III Statue, Madrid stands in the centre of Plaza Mayor depicts King Philip III of Spain triumphantly riding his stallion. This bronze statue may only be of slight interest to many tourists but the Felipe III Statue has had an intriguing history and is worthy of more than just a quick glance and photo.
Why is the Felipe III Statue Interesting?
During the early stages of the Franco dictatorship of Spain, relics and statues with connections to the Spanish monarchy were defaced or destroyed. The Felipe III Statue was no exception and it was pulled from its stone mount. As the bronze statue toppled and smashed onto the cobbles of the Plaza Mayor hundreds of small bones tumbled out of the hollow statue. The superstitious vandals instantly stopped their destruction, thinking the bones were from the guardian spirit of Felipe III and refused to damage the statue any further.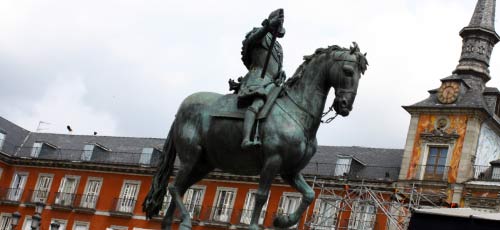 The bones were later identified as the skeletons of small town dwelling birds but the mystery as to why they had been collected in the statue remained a puzzle until the statue was repaired during the 1950s. While repairing the statue a small hole was discovered that allowed birds to enter but due to the angle prevented exit. The Felipe III statue over the centuries had trapped hundreds of birds and their unfortunate bones collected in the base. Today the statue takes pride of place Madrid's main square but is bone free as the small hole has been sealed!
Felipe III Statue Madrid History
The statue was commissioned by King Philip III (1578–1621) who ruled over a joint Spanish and Portuguese empire but history remembers him as Philip the Pious due to his deeply religious beliefs.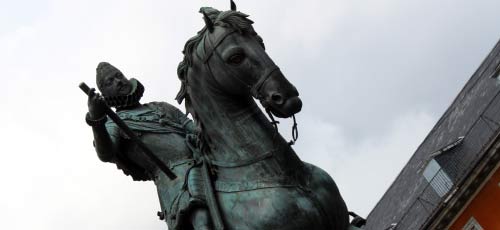 The Felipe III Statue Madrid was designed and sculptured by the Italian artist Jean Boulogne a member of the Medici in Florence. Jean Boulogne talents were so fiercely guarded by Florence that he was forbid from leaving the city. The Medici were afraid that one of the great royal dynasties of the era, including the Spanish, would exploit his talents, so it is quiet ironic that the last sculpture by Jean Boulogne was for the Spanish Royal family. Jean Boulogne died at the grand old age of 79 and it was appetence, Pietro Tacca, that completed the statue of King Philip III. It was Pietro Tacca who crafted the unique rearing statue of Felipe III's heir, Felipe IV, that stands in Plaza de Oriente.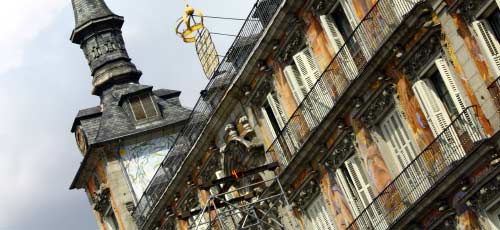 The Felipe III Statue Madrid was presented to King Philip III from the Grand Duke of Florence in 1616 and placed in the Casa de Campo. The statue stood pride of place in the Casa de Campo until 1848 when Queen Isabella II redesigned many of the capital's royal parks and the statue was moved to the Plaza Mayor.
Madrid Holiday Guide