3-days in Madrid: A Journey Through History, Art, and Cuisine
Madrid, the vibrant capital of Spain, is a city that never fails to captivate its visitors. With its rich history, stunning architecture, lively nightlife, and delicious cuisine, Madrid offers something for everyone. Whether you're an art lover, a foodie, or just looking for an exciting city break, Madrid has it all.
In this article, you'll discover the perfect 3-day itinerary to explore and make the most of this magnificent city. You'll get to visit some of the most iconic landmarks, taste delicious food, immerse yourself in the city's vibrant nightlife, and experience the authentic local lifestyle.
Whether travelling solo, with friends, or with family, this 3-day itinerary will ensure you make the most of your time in Madrid.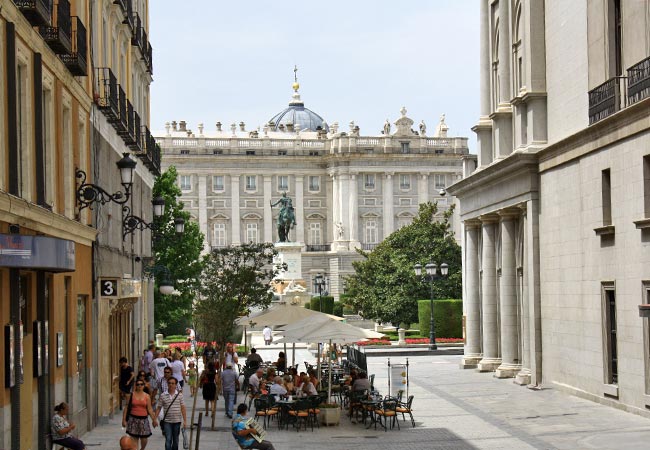 Overview of the 3 days in Madrid
There is so much to see and do in Madrid and a recommended itinerary for your first visit to the city is:
Day 1: Historic Madrid
• Visit the Royal Palace of Madrid (Palacio Real)
• Walk through Plaza de Oriente
• Explore Almudena Cathedral
• Stroll around Plaza Mayor
• Lunch at Mercado de San Miguel
• Visit Puerta del Sol
• Explore Gran Via, Madrid's shopping street
Day 2: Art and Culture
• Visit the Prado Museum (Museo del Prado)
• Walk through El Retiro Park (Parque del Buen Retiro)
• Lunch at a Spanish bodega
• Visit the Reina Sofia Museum (Museo Nacional Centro de Arte Reina Sofia)
• Explore the Lavapies neighbourhood
Day 3: Modern Madrid and Parks
• Visit the Santiago Bernabéu Stadium (home of Real Madrid)
• Walk around the Paseo de la Castellana
• Lunch at a trendy restaurant in the Salamanca district
• Visit the Sorolla Museum (Museo Sorolla)
• Explore the Templo de Debod, an ancient Egyptian temple
• Relax at Casa de Campo park
Below is an interactive map for the 3 days in Madrid. The green markers are for the first day, the blue markers are for the second day and the yellow markers are the third day. (Note: Zoom out to see all of the points.
Key: 1) Royal Palace of Madrid (Palacio Real) 2) Plaza de Oriente 3) Almudena Cathedral 4) Plaza Mayor 5) Mercado de San Miguel 6) Puerta del Sol 7) Gran Via 8) Prado Museum (Museo del Prado) 9) El Retiro Park (Parque del Buen Retiro) 10) Reina Sofia Museum (Museo Nacional Reina Sofia) 11) Lavapiés neighbourhood 12) Santiago Bernabéu Stadium 13) Sorolla Museum (Museo Sorolla) 14) Templo de Debod 15) Casa de Campo park
The following sections will detail this three day tour of Madrid in detail.
3-days in Madrid, a suggested tour
Day 1 in Madrid
Begin your adventure in Madrid by visiting the impressive Royal Palace of Madrid (Palacio Real). This grand palace, once home to the Spanish Royal Family, is now a symbol of Spanish history and culture. With over 3,000 rooms, the palace showcases stunning architecture and beautiful interiors. Don't miss the Throne Room, the Royal Armory, and the Royal Pharmacy during your visit.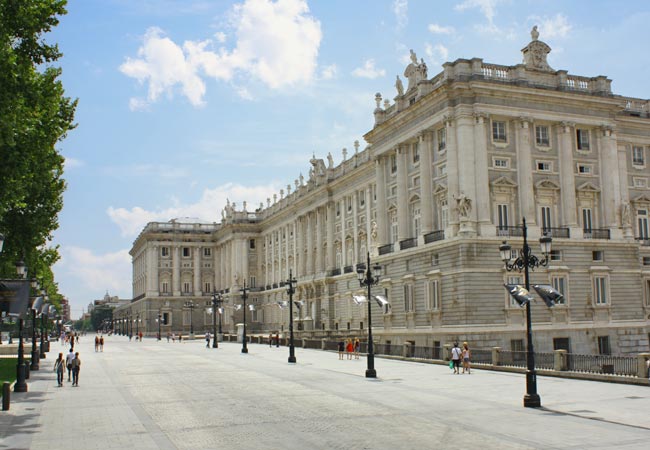 The Royal Palace of Madrid: is the largest royal palace in Western Europe
Next, stroll through the picturesque Plaza de Oriente, a landscaped square between the Royal Palace and the Royal Theater. The plaza features elegant gardens, fountains, and statues of Spanish monarchs. It's the perfect spot to relax and take in the city's charm, or capture a few memorable photos.
Just a short distance away, you'll find the Almudena Cathedral, an architectural marvel blending Gothic, Neo-Gothic, and Neo-Romanesque styles. Step inside to admire the stained-glass windows, frescoes, and the museum showcasing the history of the cathedral and its role in Madrid's spiritual life.
As you continue your journey, head to the bustling Plaza Mayor. This historic square, once a centre of commerce and celebration, is now a vibrant hub with street performers, outdoor cafes, and shops. The intricate frescoes and ornate buildings make the Plaza Mayor an ideal place to soak in the atmosphere of Madrid's buzzing city centre.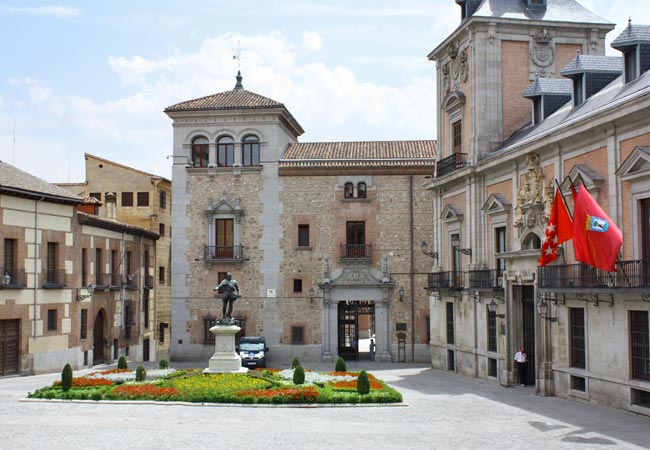 The Plaza de la Villa is home to some of Madrid's oldest buildings
By now, you've likely worked up an appetite, so head to the nearby Mercado de San Miguel for a well-deserved lunch. This 19th-century market hall offers a variety of Spanish delicacies. Sample tapas, from fresh seafood and Iberian ham to artisanal cheeses and pastries. The lively atmosphere and exquisite flavours at Mercado de San Miguel will make for a memorable dining experience.
After satisfying your hunger, make your way to the iconic Puerta del Sol, the heart of Madrid. This bustling square is home to several historical landmarks, such as the statue of King Charles III and the famous clock at the Casa de Correos, which marks the countdown to the new year. Puerta del Sol is also the starting point of Madrid's six main streets, making it an excellent spot to people-watch and feel the pulse of the city.
Finally, round off your day by exploring Gran Via, Madrid's vibrant shopping street. Lined with stunning early 20th-century architecture, this bustling avenue is a haven for shopping enthusiasts, with numerous stores offering everything from high-end fashion to local artisan goods. In addition to shopping, you can catch a show at one of Gran Via's historic theatres or relax at a café and enjoy some people-watching.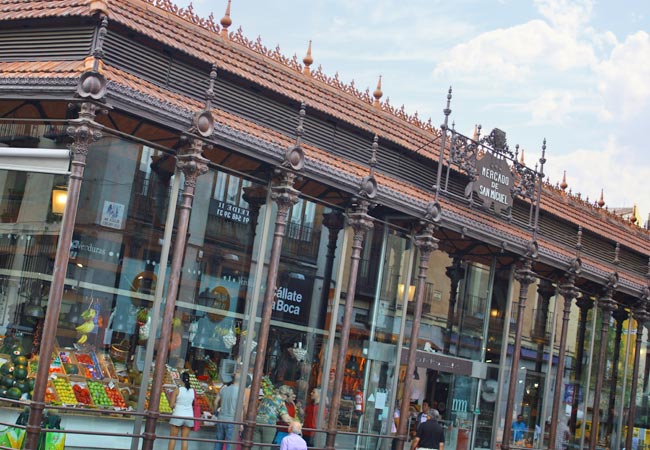 The Mercado de San Miguel
Day 2 in Madrid
Kick off your second day in Madrid with a visit to the world-renowned Prado Museum (Museo del Prado). As one of the most important art galleries globally, the Prado Museum houses an extensive collection of European masterpieces, particularly from Spanish artists such as Velázquez, Goya, and El Greco. Set aside a few hours to immerse yourself in the stunning artwork, ranging from the 12th to the early 20th century.
After experiencing the marvels of the Prado Museum, head to El Retiro Park (Parque del Buen Retiro), a lush green oasis in the heart of the city. Take a leisurely walk along the tree-lined paths, discover the beautiful Rose Garden (La Rosaleda), or rent a rowboat and spend some time on the tranquil waters of the park's large pond. The park also hosts a variety of sculptures and fountains, including the striking monument to King Alfonso XII.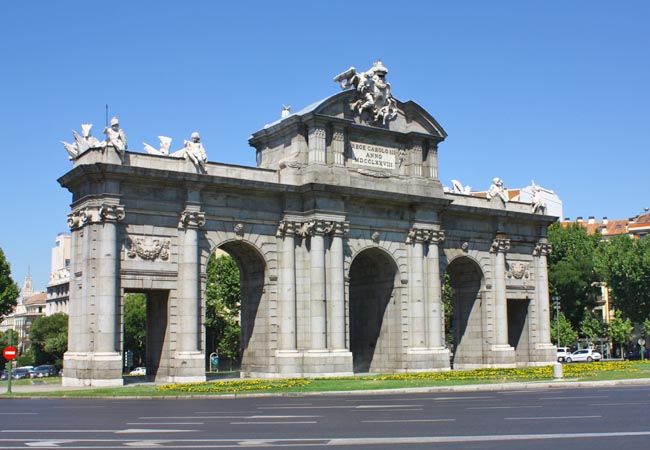 The Puerta de Alcalá is the iconic gateway into the city that was commissioned by King Charles III in the 18th century
When it's time for lunch, visit a nearby Spanish bodega to savour the local cuisine. These traditional wine bars offer a cosy atmosphere and a variety of delicious tapas or small plates to share. Pair your meal with a glass of Spanish wine or sangria for a truly authentic experience.
With a full stomach, continue your cultural exploration at the Reina Sofia Museum (Museo Nacional Centro de Arte Reina Sofia). This museum is dedicated to modern and contemporary art, and includes artists such as Pablo Picasso and Salvador Dalí. The museum's most famous piece is Picasso's "Guernica," a powerful anti-war painting.
After soaking in the art at the Reina Sofia Museum, make your way to the vibrant Lavapiés neighbourhood. Known for its multicultural atmosphere and strong bohemian vibe, Lavapiés is a fantastic place to explore. Wander along its narrow streets, browse the eclectic mix of shops, and appreciate the colourful street art adorning the walls. As your second day in Madrid comes to a close, consider dining at one of the many restaurants in the Lavapiés neighbourhood.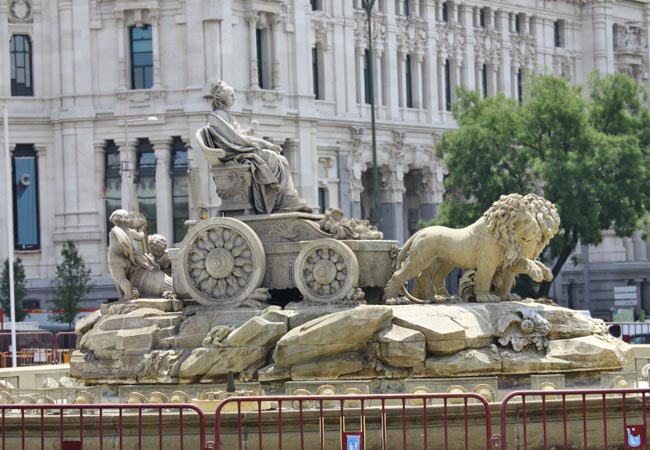 The Fuente de Cibeles fountain is the emblematic symbol of Madrid, which features the Greek goddess Cybele on a chariot pulled by lions
Day 3: Modern Madrid and Unique Attractions
Begin your third day in Madrid with a visit to the Santiago Bernabéu Stadium, the iconic home of Real Madrid, one of the world's most successful football clubs. Take a guided tour of the stadium to gain behind-the-scenes access to areas like the players' tunnel, the dressing rooms, and the press room. Don't forget to stop by the trophy room, where you can marvel at the club's numerous awards and accomplishments.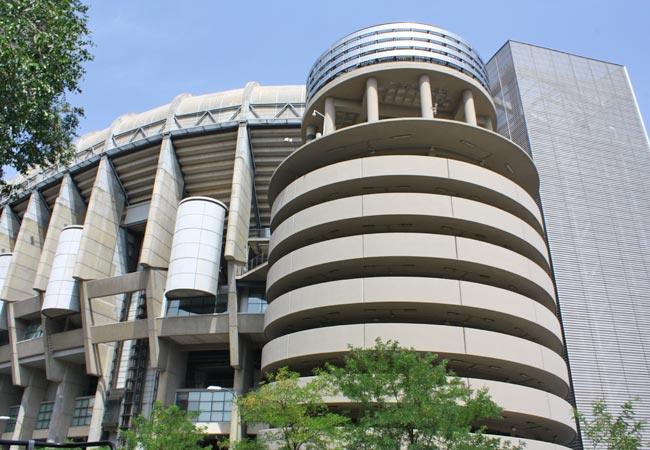 The Santiago Bernabéu Stadium - the legendary home of Real Madrid
After exploring the stadium, take a leisurely walk along the Paseo de la Castellana, one of Madrid's main avenues. This boulevard is lined with modern buildings, upscale shops, and lush green spaces, providing a glimpse into the city's contemporary side. Enjoy the architecture and urban design as you stroll through the bustling business district.
When hunger strikes, head to the fashionable Salamanca district for lunch. This upscale district is renowned for its trendy restaurants, offering both traditional Spanish cuisine and innovative dishes. Choose a chic eatery and indulge in a delicious meal while soaking in the sophisticated atmosphere.
Following lunch, make your way to the Sorolla Museum (Museo Sorolla), dedicated to the renowned Spanish painter Joaquín Sorolla. This charming museum, once the artist's home and studio, showcases a vast collection of his works, including vibrant seascapes and enchanting portraits. The museum also features a beautiful Andalusian-style garden, perfect for a peaceful, relaxing afternoon basking under Madrid's glorious weather.
Next on your itinerary is the Templo de Debod, an ancient Egyptian temple gifted to Spain in 1968. This unique attraction was originally built in Egypt over 2,000 years ago and was carefully reconstructed in Madrid's Parque del Oeste. Take some time to explore the temple and learn about its history through the informative displays. The Templo de Debod is also an ideal spot for capturing some stunning photos, especially during sunset when the temple is beautifully illuminated.
Finally, unwind at Casa de Campo park, a vast green space that once served as a royal hunting ground. Today, it offers a multitude of outdoor activities, such as walking, cycling, or even renting a boat on the park's lake. If you're seeking more excitement, Casa de Campo is also home to Madrid's amusement park and the Madrid Zoo Aquarium. Choose your preferred activities and enjoy the serene surroundings as you relax and reflect on your three-day Madrid adventure.
Other unique sights of Madrid
Madrid is a city filled with unique sights and attractions beyond the ones mentioned in the guide. Here are a few more noteworthy spots to consider during your visit:
CaixaForum Madrid: This striking cultural center hosts a variety of art exhibitions, workshops, and events in a building that is a work of art itself. The eye-catching vertical garden on the exterior is particularly impressive.
Matadero Madrid: Once a former slaughterhouse, Matadero Madrid has been transformed into a vibrant cultural center with art exhibitions, theatre productions, and film screenings. This unique space is worth exploring for its industrial architecture and lively atmosphere.
Círculo de Bellas Artes: This multi-disciplinary cultural center houses a variety of exhibitions, concerts, and workshops. Don't miss the rooftop terrace, which offers stunning panoramic views of the city.
Mercado de la Cebada: A local market in the La Latina neighbourhood, where you can explore a wide variety of fresh produce, meats, and cheeses, as well as enjoy tapas in a more off-the-beaten-path setting.
Ermita de San Antonio de la Florida: This small chapel is not only a beautiful architectural gem but also houses an impressive collection of frescoes painted by Francisco Goya. Goya's tomb is also located inside the chapel.
Real Jardín Botánico: A beautiful botanical garden near the Prado Museum, featuring a vast collection of plants from around the world, as well as seasonal exhibitions and events.
Cerralbo Museum (Museo Cerralbo): This lesser-known museum showcases the private art collection of the Marquis of Cerralbo in his former residence, a beautiful 19th-century mansion. The museum displays an eclectic mix of paintings, sculptures, ceramics, and other decorative arts, giving visitors a glimpse into the aristocratic life of the time.
Convent of Las Descalzas Reales: A fascinating historical site, this royal monastery was once a residence for the daughters of Spanish nobility who decided to join the religious order. The convent houses an impressive collection of religious art and artefacts, as well as beautiful frescoes and a tranquil courtyard.
El Rastro Flea Market: Held every Sunday in the La Latina neighbourhood, El Rastro is Madrid's most famous flea market. Browse through countless stalls selling vintage clothing, antiques, art, and various other treasures. It's an ideal place to hunt for unique souvenirs and experience the lively atmosphere of a traditional Spanish market.
The Railway Museum (Museo del Ferrocarril): Housed in the historic Delicias train station, this museum showcases the history and development of railways in Spain. Explore a wide range of locomotives, carriages, and other railway-related artefacts while learning about the role of trains in Spain's industrial and social history.
Dishes and food to try during your 3 days
While in Madrid, you should definitely try some traditional Spanish dishes and local specialities. Here are five meals or foods to consider during your three-day visit:
Cocido Madrileño: A hearty chickpea-based stew, Cocido Madrileño is a classic Madrid dish. It typically contains a variety of meats, such as pork, beef, and sausage, as well as vegetables like potatoes and cabbage. Served in two courses, the broth is first enjoyed as a soup, followed by the meats and vegetables.
Tapas: Madrid is famous for its tapas culture, where small plates of food are shared among friends while enjoying drinks at a bar. Popular tapas options include patatas bravas (fried potatoes with spicy sauce), croquetas (breaded and fried bechamel-filled bites), jamón ibérico (cured Iberian ham), and gambas al ajillo (garlic shrimp).
Bocadillo de Calamares: A Madrid favourite, this simple yet delicious sandwich consists of crispy, fried squid rings served in a fresh baguette. You can find bocadillo de calamares at many tapas bars or street food stalls, especially in the area surrounding Plaza Mayor.
Churros con Chocolate: A popular Spanish treat, churros are fried dough pastries that are typically enjoyed as a breakfast or dessert item. In Madrid, they are often served with a thick, rich hot chocolate for dipping. Visit one of the city's churrerías or chocolaterías, such as the famous Chocolatería San Ginés, to indulge in this tasty delight.
Tortilla Españ ola: Also known as the Spanish omelette, tortilla española is a versatile and delicious dish made from eggs, potatoes, and onions. It is typically served either warm or at room temperature and can be enjoyed as a tapa, a light meal, or even a sandwich filling. Some variations may also include other ingredients like peppers, spinach, or chorizo.
Rabo de Toro: Translating to "bull's tail," Rabo de Toro is a traditional stew made from braised oxtail and vegetables like carrots, onions, and tomatoes. The dish is slow-cooked to perfection, resulting in tender meat and a rich, flavourful sauce. It's a must-try for meat lovers and can be found at many traditional Spanish restaurants in Madrid.
What is the best way to travel around Madrid for the 3-day tour?
The best way to travel around Madrid for the 3-day tour is by utilizing the city's efficient public transportation system, which includes the metro, buses, and regional trains. Here's a quick overview of the options:
Metro: The Madrid Metro is one of the most extensive and efficient subway systems in the world, with 12 lines covering a large part of the city. It's a fast and convenient way to reach many of the attractions on your itinerary. You can purchase single-journey tickets or opt for a Tourist Travel Pass (Tarjeta Turística), which offers unlimited travel on public transportation for 1, 2, 3, 5, or 7 days.
Buses: The city's bus network, operated by EMT Madrid, covers an even larger area than the metro and can be a convenient way to reach destinations not directly served by the subway. Buses are generally slower than the metro but can offer more scenic routes through the city. The Tourist Travel Pass also covers bus journeys within Madrid.
Regional trains (Cercanías): For some attractions located outside the city centre, such as the Santiago Bernabéu Stadium, regional trains can be a convenient option. These trains are part of the Cercanías Madrid network and are also covered by the Tourist Travel Pass within specific fare zones.
Walking: Madrid is a very walkable city, and many attractions are within a reasonable distance from each other, especially in the city centre. Walking allows you to explore the city at your own pace and discover hidden gems along the way. When planning your route, consider walking between nearby attractions to fully immerse yourself in the atmosphere of Madrid's diverse districts.
Taxis and ride-hailing services: While not the most cost-effective option, taxis or ride-hailing services like Uber can be convenient for certain situations, such as when you're travelling with heavy luggage or need a direct route to a specific destination.
Madrid Holiday Guide