Fountain of Cibeles Madrid Guide
The fountain of Cibeles, along with the Cibeles Palace in the background, have become the tourist image of Madrid and is one of the most recognisable sights of the capital.
The fountains depict the Roman goddess Cybele riding a chariot pulled by two Lions in her hands she clasps the keys of the city. The fountains have become such an icon for Madrid that the city's most prolific football club, Real Madrid, use it as a focal point for their celebrations. The Fountains of Cibeles lie at the heart of one of Madrid's busiest junctions and by day is encircled by heavy traffic but late in the evening, when the monument is illuminated, the true splendour of the 18th century monument can be appreciated.
Fountain of Cibeles

- Tourist Information
The fountains of Cibeles are located on the eastern side of Central Madrid on the junction of the Paseo de Recoleto (heading north), Paseo del Prado (heading south) and the Calle de Alcalá (heading east and west). The fountains are directly infront of Cibeles Palace the City Hall of Madrid.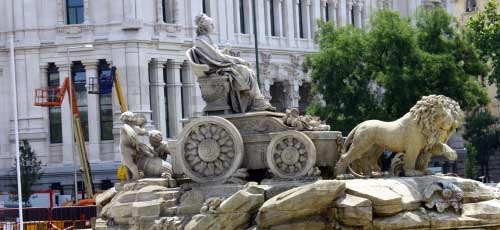 Cibeles Fountain Further Information
The fountain was commissioned by King Carlos III in 1777 in an effort to transform the capital of his newly acquired country into a true royal city. King Carlos III was dismayed at the standard of Madrid when he compared it to his previous kingdoms of Naples and of Sicily. The fountains took 5 years to construct under the guidance of Ventura Rodríguez. The fountain depicts Cybele the Greek goddess of fertility. In her hands she holds a sceptre and a key which signifies the keys to the capital. The original location of the Fountain of Cibeles was in front of the Buenavista Palace and it was here that it was inaugurated in 1782.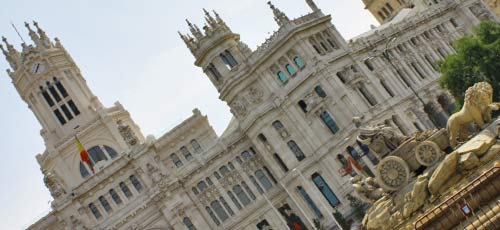 The 8 metres tall fountain was moved to it's present location during the 19th century. During the move the Fountain of Cibeles partner fountain, the Fountain of Neptune, was rotated to face towards the city instead of Cibeles as it had been at the Buenavista Palace. During the Spanish Civil War the Republican side that controlled Madrid protected the fountain by covering it under a mountain of sandbags. The fountains survived with only slight damaged to Cybele's nose and right arm.
The Fountain of Cibeles is the focal point for the celebrations of Real Madrid, the capital's most prolific football team. When the football club wins a significant event the fans come to celebrate and the captain of Real Madrid places a scarf or shirt on Cybele. This tradition originates from 1986 when the Real Madrid player Emilio Butragueno scored four goals in a game of World Cup 1986. Since then the Cibeles fountain has became the location for celebrations after important victories for Real Madrid.
Madrid Holiday Guide